Rate plans are different for every property, however, in this article we are going to show you a way of creating a three – day Christmas or Festive Package.
The rate plan is going to be £300 per night, £900 in total – for a standard room, and it is going to be for arrival on the 24th December, with a departure of the 27th of December. Within the package, there will be different elements posted on different days.

Please note - If you have one already from a previous year, you are able to reuse the below steps and adjust the prices and products according to this year's needs.


Step 1 – Rate Table
Go into the system cogs and rate table
Select create new bedroom rate table.
You give the table a code, which can only be letters, numbers, or underscores. For example, XMAS. Generally, people do NOT make this specific by year, so that they can reuse these elements in following years to come and save having to build the rates again every year. This must be unique and cannot be changed once saved
You then give it a group. The group is the filing cabinet on the left-hand side where this will be filed. Again letters, numbers, and underscores only. This can be changed later.
You can then write a description for internal use only.
Next you need to add in the price per night. If the prices are different for different room types, you can enter this here in the grid.

Step 2 – Rate Rule
Within the system cogs, go to rate rules
Create new rate rule.
From here you will then again create a code, group, and description in the same way as step 1.
Once saved, you must then add the rate table in the drop down and save again.



Step 3a – Products
This is the break down of the revenue. Here we need to see if we have the products, we need to split the revenue by anything other than accommodation.
Go into system cogs and products, and see if you have what you need, going to the correct analysis code. For example, lunch, dinner, gift, chocolates etc.
If you have an item(s) missing, you can create one by selecting new product.
Give it a code, select which group to file it under on the left hand side and a description.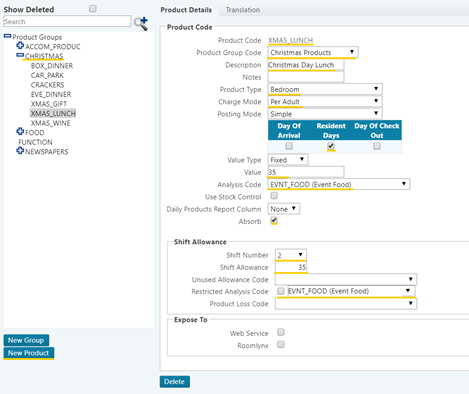 If you need a new group on the left, select new group and give it a code and a description.
Next, we ensure this is a bedroom product and then select how this is to be charged, e.g. per adult, per child or per room.
Next select if this is on the day of arrival or resident days and the value and analysis code.
If this item needs to be processed through your tills, then you will also need to add a shift allowance, to tell the system which part of the day it can be accepted – the most commonly used ones are 2 – lunch and 3 – dinner. However, sites can be configured differently. You also need to select the allowance the till system can put through before the customer is charged and the restricted codes that it will accept from the tills. E.g. if it were a dinner allowance, you may only allow dinner analysis codes

Step 3b – Product Rule
Next, we need to pull these products together into your breakdown of revenue for the package.
Go into system cogs and product rule.
You will see meal plans on the left hand side. These pull through numbers onto the meal plan report, so you can see how many rooms and people are expected on each meal plan. You can create a new one if you need by selecting new meal plan group, selecting a code and a report number. On this site, the report number would be 6, as we have 5 already.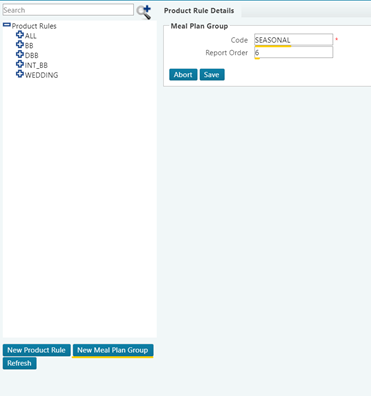 Now select new product rule and give it a code, description and meal plan.
Next you need to select the date range this product rule is available for, this must cover the date range that your rate plan will be available for. The first one for this example would be 24th
You would then add in the products one by one and ensure they are absorbed and the correct price.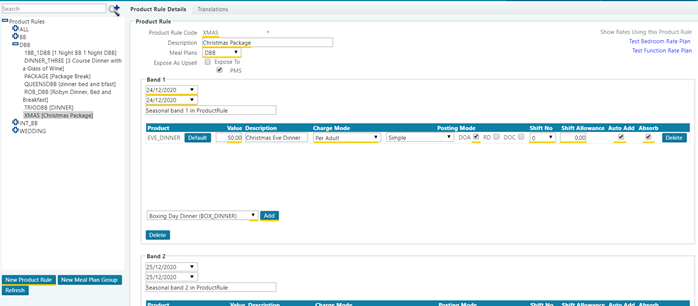 Now select new band and add the dates of 25th December and again add in the products
Finally add another new band for the 26th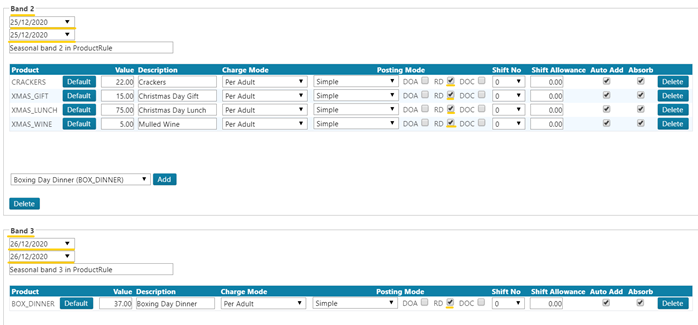 Please note: Day 1 will have a posting mode of day of arrival and the following days will be resident days
Step 4 – Rate Plan
The final step is to go to system cogs and rate plan.
Here you need to ensure you have a main and subgroup on the left to file your rate plan in. If not, create new main group and or subgroup and give them a code and a description.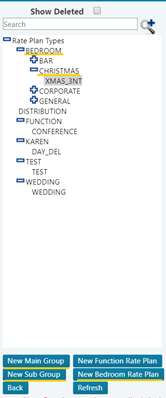 You can now select create new rate plan.
Give your rate a code, which will be seen when you do a rate search.
The description is what the customer will see on the invoice. The notes can be seen when hovering over the rate code when doing a rate search and if you have it configured in your confirmation email, these can also be pulled through.
You then select the main and subgroups to file it under and a market segment.

Next to activate your rate – select 'rate plan available' if you are not ready to activate this for sale yet, then leave this unticked.
The start and end dates are the dates your customer can stay from and until, so in this scenario, we would select 24th – 27th December – as it must include the checkout date.
If you want your customers to have to book this within certain lead in time you can add this here. For example, if they can only book 30 days in advance but no further ahead, you would add a lead in time of 30 days.
Advance purchase does the opposite to lead in times, so if they can ONLY book in advance but not closer to the time, you would add an advanced purchase of 30 days for example.
The nights per room is the number of nights consecutively your customer can stay. In this scenario, we are creating a 3-night package, so we would select 3 to 3 here.
The number of occupants is the number of people who can stay on this package. For this scenario, I am going to select 1 to 2, as you can stay as a single person, or as two.
Occupancy will restrict this package to only be sellable between certain occupancies. You can leave this blank, so that it is available regardless of what occupancy you are sitting at.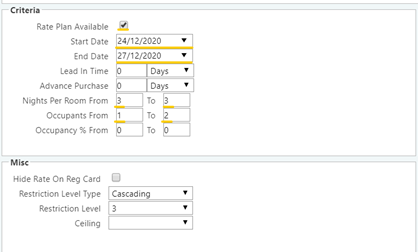 Next you will need to assign your charge mode. Most agents only allow 'per room' rates, so you most likely will choose this option. If it is a direct only rate you can use 'per person'
Assign the rate rule and product rule that you created.
Move down to the expose to section. Here you can make this available to book directly in Rezlynx, by selecting 'PMS' and or online by selecting 'Roomlynx'

As you move down to the bottom of the screen, you will see override analysis codes – this is only applicable if your site has multiple charge codes for accommodation, for example cottage accommodation, hotel accommodation, apartment accommodation. If this is the case for your property, you will need to build separate rate plans for the different room types.
Finally you can select the room types you wish for this to be included for, and save.

Optional - Supplements
If your package is a 'per room' rate and you need to boost, or reduce the price depending on the number of occupants in the room, then you may need to use a supplement rule.
To create a supplement, you will need to go back to rate tables and build tables with the values in that you wish to raise or reduce. You may need multiple tables if there are different values for different number of occupants. E.g. +100 for 2 people but + 200 for 3.
Once these are built, you will then need to go into supplements and create a new supplement rule, attaching the rate tables to the corresponding occupants and ensuring it is in the correct place for if you are doing a 'per room' rate and save. Now return to your rate plan and add the supplement.

Finally – Test it!
Always test your rate plan within the dates you wish for it to work, and also outside of these dates, with different numbers of people in the room, so that you can ensure you have built it correctly and using the correct pricing. You can also use view summary to double check the allocations of revenue and validate for GDE to ensure it is built correctly for online bookings.