This article will cover the following points of Offline Reports:
Using Offline Reports
Being Prepared (when you know you will be going offline)
Offline Reports are NOT updating
How to setup Offline Reports on a "new" PC
Using Offline Reports
Key reports in Rezlynx are downloaded periodically to selected PCs (usually a minimum of 2 different PCs) at your property, these are known as Offline Reports.
If you lose your internet connection or there is a problem accessing Rezlynx, the offline reports will contain information from the last time they auto-updated (every 50 mins approx).
Offline reports that are available:
Room Balances
Arrivals
Departures
Residents
Availability (for the next 10 weeks)
Room Status
To access the Offline Reports while Rezlynx is offline, in the Rezlynx Browser, click on "View Offline Reports":

Then, on the bottom bar of the Rezlynx Browser, you will see the available Offline Reports for you to click on:

This will then show the data in that report for the last time it was updated.
Being Prepared
If you know that you will be losing your internet connection at a specific time during the day, you can do a manual update just prior to this time to ensure your Offline Reports are as up to date as possible. To do this, using the Rezlynx Browser, click on "Tools" on the top menu and then click on "Update Offline Reports":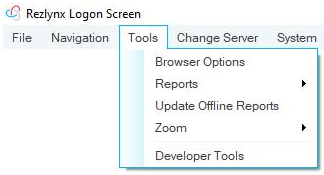 What to do if your Offline Reports are NOT updating
Offline Reports should auto-update in the background every 50 minutes, but if they have not done so within a 24-hour period, you will have an error pop up on the screen to advise you they are not updating.
If you have this issue, firstly try restarting the Rezlynx Browser and doing a manual update of your Offline Reports (as outlined above).
If this does not work and your Offline Report still have not updated, please contact the Support Team and they will be able to assist you further.
How to setup Offline Reports on a PC that does not have them
Currently, the best way to have Offline Reports setup on a "new" PC is to call the Guestline Support Desk on 01743 282700, email support@guestline.com, or chat to one of the helpdesk agents via Rezlynx Chat.