Should you need to advise your guests of a particular alert at the time they are making their reservation, Notifications is now available for DBM.
Example notifications that you may wish to consider advising your guests about:
Closed facilities at the property, during a particular period
COVID-19 updates that may affect guests during their stay
To notify guests of charges that may apply on arrival, such as City Tax or car parking.
Notifications are fully mobile responsive.
What does it do?
Notifications are free type messages that can be created, to display to guests when they book on certain dates. These notifications have to be acknowledged in order to make the reservation.
Notifications are defined by dates and will show when the guest books accommodation that cover all or part of these dates.
Notifications can be added at group level or for individual properties.
Notifications can also be translated to the following languages:
English, German, Danish, Dutch, Italian, French, Portuguese, Spanish
How does the guest see the Notifications
Once a guest has completed their search and added a room to their basket, the notifications will display at the bottom of the basket. The guest will be required to tick and acknowledge the notification before they can continue with the remainder of their reservation journey.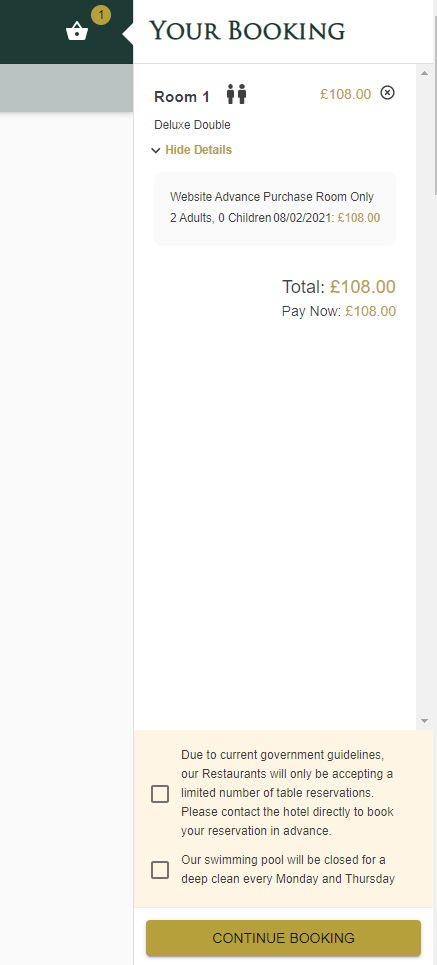 The guest will be prompted if they do not acknowledge the notification.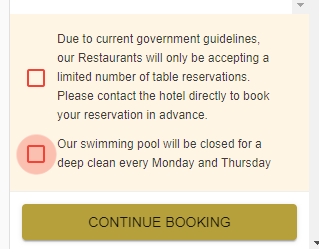 The guest will be reminded of the notification, on the Summary Page.

The notification will also display on the guest's email confirmation, once they have completed their booking.

How can I activate Notifications
Currently, Hotel Notifications is only accessible by Guestline. Should you wish to add/edit or delete notifications please contact Distribution@guestline.com and include the following:
Notification message and langauge
Further translations and language
The dates the notification is applicable for
Which property the notification is for
Multiple notifications can be added per date.

Example request:
This is a test notification (English default)
Dies ist eine Test Benachrichtigung (German)
1st February 2021 to 31st December 2021
All properties
Please note that requests will need to be scheduled with our team and may take up to 14 days to complete.