Booking.com have recently made changes to its Reservation API here and added a new feature 'Guest Count with Children' around child pricing to comply with European Consumer Law. Nevertheless, this change is Phase 1 of the required compliance. Further changes will follow at a later date, i.e. adult and child counts at room level.
How does this affect you
Before this feature was enabled, the Booking.com website would show as follows: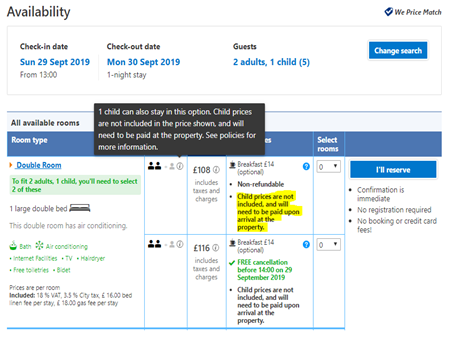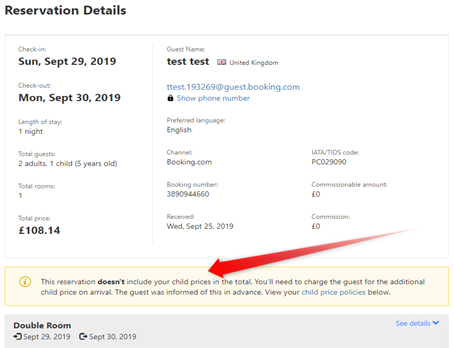 With this feature enabled, the Booking.com website will now show as follows: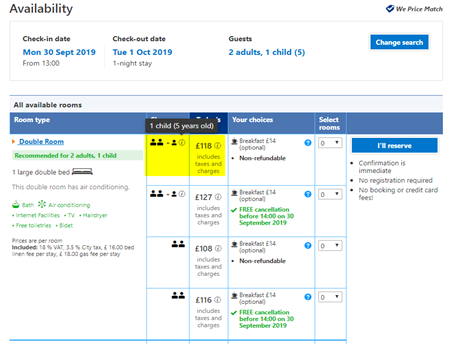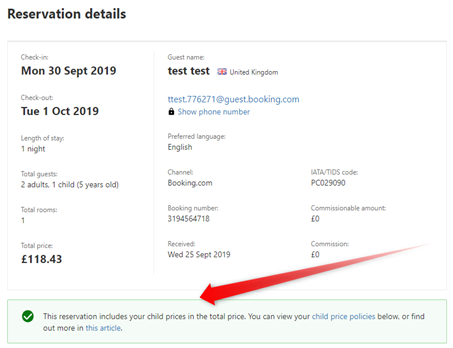 How to configure
Booking.com extranet
In your booking.com extranet navigate to 'Property' - 'Policies' - 'Children & Extra Beds' - 'Occupancy and Supplement Pricing'
Set up your child occupancy policies, e.g.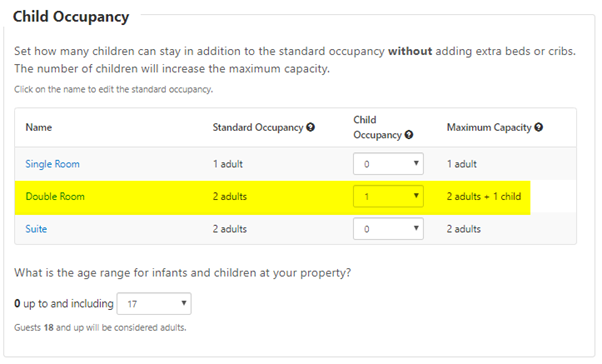 Set up your child supplement pricing, e.g.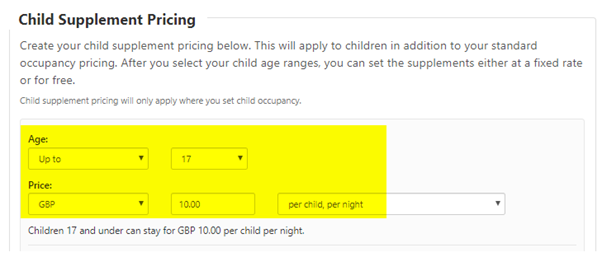 2. Please note that no changes have needed to be made to either Guestline Channel Manager (Roomlynx) or Guestline PMS (Rezlynx) to support Phase 1 of this feature.
Nevertheless, for Phase 1 of this feature, the children booked in the room will be added to the Guest Count in the reservations delivered. This means that when the reservation is delivered to Rezlynx PMS, the child count will be included in the Adults field. So, for example, if a booking was made for 2 adults and 1 child, this would deliver to Roomlynx as GuestCount = 3, and therefore delivered to Rezlynx PMS as Adults = 3:

The following detail will also be included in the XML, which is the searched occupancy with the breakdown of adults and children:

The above information will be delivered to Rezlynx PMS in the Roomlynx notes:

Here's how it will show in Rezlynx PMS: 2 Adults and 1 Child


The reason this information is delivered in notes rather than as the occupancy of the reservation is as follows:
We receive a single reservation from Booking.com
A single reservation from Booking.com can contain multiple rooms (room picks)
The occupancy breakdown sent by Booking.com is sent at RESERVATION level, rather than at ROOM level, which means we would not know the occupancy breakdown of each of the rooms.
This issue is what Booking.com are looking to address as part of Phase 2.
The rate that is delivered by Booking.com to Roomlynx will also include any child occupancy pricing, ensuring the correct rates are populated to the booking in Rezlynx PMS. Please do bear this in mind should you note a price discrepancy – the reason may be that the price also include child pricing.