To view all posted transactions & charges. Can be used to ensure that postings have gone through correctly & to the right analysis codes. When viewed on screen using 'Refresh' the columns can be rearranged by clicking on the headers.
If you would like to obtain the individual charges of an analysis code shown on your EOD, the below steps would need to be followed:
In my example, I want to find the charges that make up my figure under the ACCOM analysis code shown below: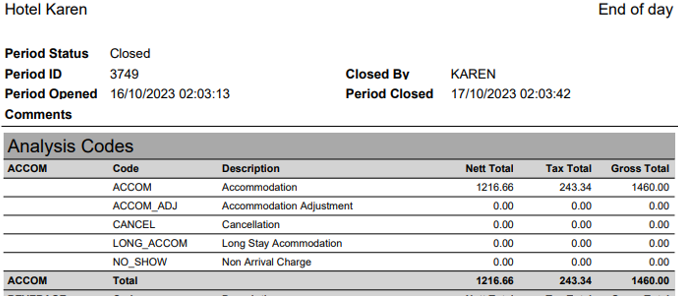 Use the Period ID filter, to input the number of the Period which can be found at the top of the report
or
Use the Search button to find the period and clicking OK will input the number

Choose the Analysis code

Tick Show Splits

(This will split out package allowances i.e breakfast from the results)

Click Refresh to return the results

**If your figure does not match it is mostly likely the Show Splits is not ticked
It will show line by line the bookings or charges posted to the analysis code

At the bottom, it will state how many transactions and the total which will match your Period figure.

Please note the report defaults to return a limit of 200 but you can always add a few more Zero's if looking at a longer date range.

**Look out for the total of Transactions at the bottom, if this states 200 then you need to up the limit to make sure none are missing off the report


Use the View > Select your output format
Filters available: For Period & Period ID, Start Date & Time, End Date & Time, Operator, Room ID, Analysis Code, Show By (Posted Date/ For Date), Show Splits, Posted Rate Plans, Posted Standard, Posted Deposits, Deleted Rate Plans, Deleted Standard
Can Filters be saved: No
Are there hyperlinks: No
Information:

Date & Time, Analysis Code, Room ID, Description, Booking Reference, Guest Name, Operator, Gross Unit, Quantity, Nett Total, Gross Total, Entry Type, Status, Item Type
Can be compared with:
Deletion Analysis – When Posting is filtered by 'Deletions standard & rate plans & show splits.'
Deposit Analysis – When Posting is filtered by 'Posted Deposits'
Cannot be compared with:
Deposit Received – when filtered by Deposit – Both include PMS Values & only show one property
Actual/Forecast: Actual Only
Tax Calculation: Gross & Nett
Export Options:

Export to CSV with new fields
Market Segment (Market Source)
Comments