To go directly to the SSO Home page use the link below:
If you are already logged into Rezlynx, click on your initials at the top right hand corner and select My Guestline account.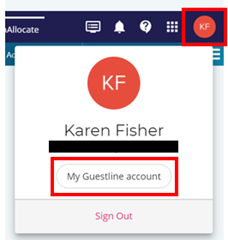 On the left hand side click on Users.

This will display all existing users created.

To create a new user click the pink Icon with the white plus at the bottom right hand corner.
Select the Tenant (if applicable) for your property/group.

This will only be applicable if you have access to multiple sites or your training site.

Enter the First Name and Family Name of the user you are setting up for your system.

If the user has a unique work email address.

Enter the email address and click Save.

The user will then be sent an email to change their password.

No other user can use the same email address.

If the user does not have a unique work email address.

Create the username for the user.

The username format is as follows:
Surname, first initial, underscore and your site id.

For example:
FISHERK_HTLGUEST

Create a password and the user will be asked to change it upon login.
Please double-check all spellings as you are NOT able to edit after creating. If you have misspelled you will have to delete the user and start the process again.
Once created you must update the permissions section on the user created.