The Best Western monitoring page within Rezlynx is accessed by clicking on the home icon and selecting the tab 'Best Western'. It is important to monitor this tab daily as this will assist hotel with ensuring that inventory is always in balance and to ensure that recognition of BW rewards members is completed daily.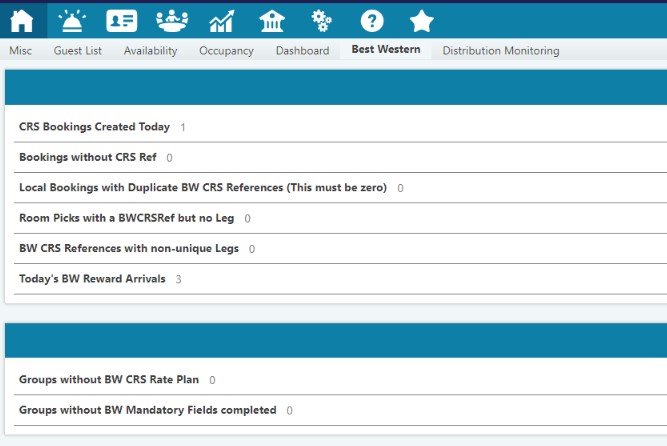 CRS bookings created today indicates the number of BW reservations delivered into the PMS on that day. Note: BW core brand hotels will not have direct interfaces to B.com and Expedia, these reservations are passed through the GDS and enter PMS as a CRS Booking.
By clicking on the grey number, a pop up box will appear giving you a list of those reservations for easy access into the reservation through the booking reference, or to export them into a spreadsheet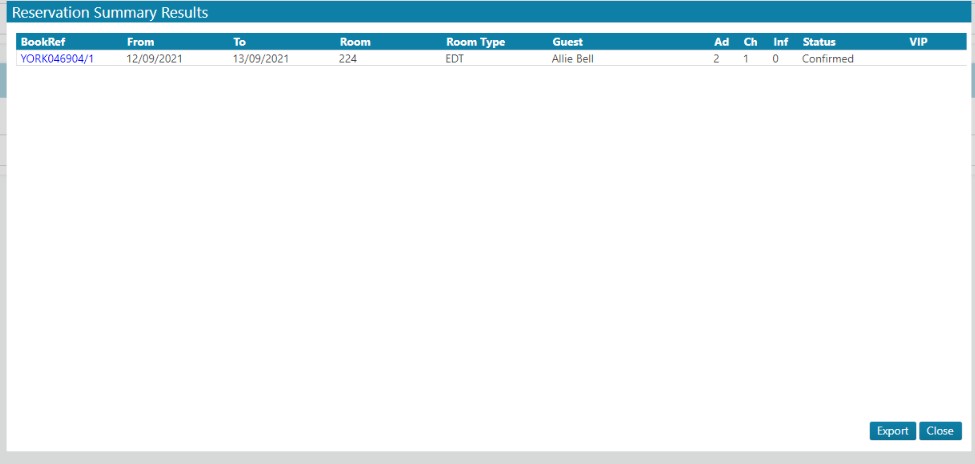 Bookings without CRS Number indicates the number of reservations within the PMS which have not generated a CRS reference number. This is important to monitor as a booking which is held in the PMS without a CRS ref number, means that BW cannot 'see' this booking, thus inventory levels at BW will not amend to true number which leaves hotel at risk of overbookings.
If you see a booking without a CRS number, navigate into the booking and in the bottom right corner, click Options->Re-send to BW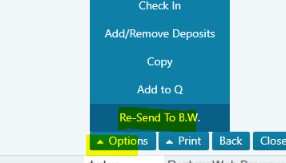 You should expect to see a BW ref number generate in blue next to the PMS book reference number. This number will always be a long number, followed by what is known as a 'Leg' number - /1

Local bookings with duplicate BW CRS references indicates any reservations which have been made locally on the PMS, and have been given a CRS number which BW is already using for a reservation. This can sometimes happen if a property has manually entered an incoming reservation and the channel successfully pushes through the original reservation. (Note, BW can also recycle CRS numbers)
Room Picks with a BW CRS ref but no leg indicates any reservations which have not generated a leg number, this is important because BW CRS numbers must always contain a leg (ie /1) If there are reservations shown here without a leg number, navigate into the booking and in the bottom right corner, click Options->Re-send to BW
BW CRS references with non unique legs indicates any reservations which have duplicated leg numbers. This could potentially result in an overbooking situation as each reservation must have a CRS with unique leg number therefore the inventory is likely to be affected when comparing PMS to MW.
Todays BW rewards arrivals indicates both locally made and BW delivered reservations which have a linked profile with a linked BW rewards profile that are arrivals today. It serves as a useful reminder at a glance for BW hotels who will have brand standards to be maintained regarding recognition of their BW member rewards tiers.
Groups without BW CRS Rate Plan indicates groups which have not successfully generated a rate plan code for BW. You can check this by navigating to the group header page and clicking on the Best Western tab. You will see below the lack of the code in this first example: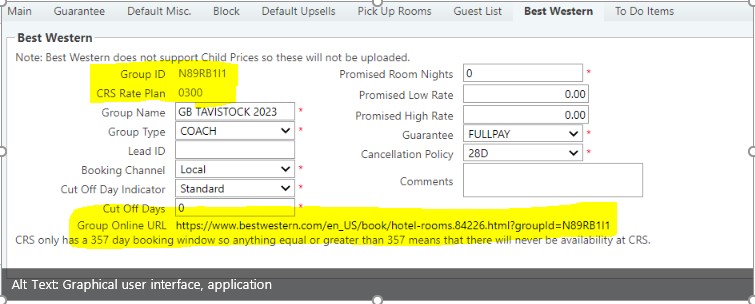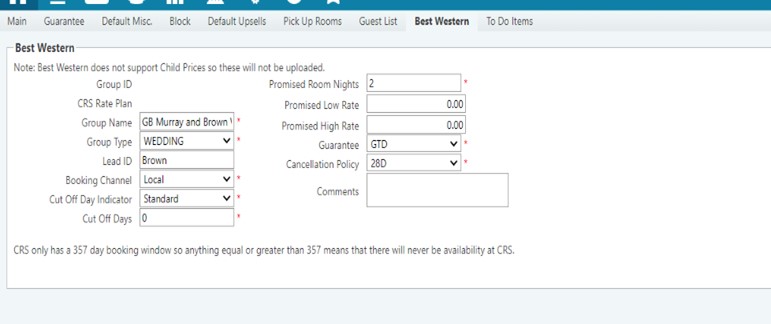 To resolve this, click on Re-send Header to BW and wait a few moments to see the URL generate successfully.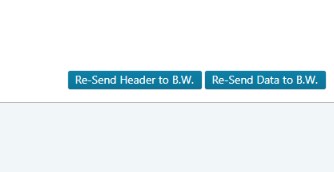 Groups without BW mandatory fields completed indicates any groups which have been made locally within the PMS which have not had the BW header completed. It is important to ensure that a CRS Rate plan has been generated by filling in all required fields within the BW header tab. Once you have filled this in, re-send the header to BW to successfully generate the code and ensure both PMS and MW are in balance.