The Best Western rewards scheme is mutually beneficial to both guests and hotel staff alike. Part of the BW core brand standards involve targeted enrollments to sign up new members and employees are rewarded via points which can be converted into vouchers etc. It is important to note the below to ensure successful qualified enrollments. It is important as enrollments can be made through PMS but without gathering the necessary information, they will not be counted towards the hotels qualified enrollments target.
To ensure the enrollment is attributed to the user processing this, the hotel must ensure they have added their BW FDI number into their user setup within Rezlynx

You can find this within MW by navigating to the Rewards Tab->Enroll. Select the User Name from the right, and this will populate the predefined FDI number

To sign a guest up to be a Best Western rewards member within the PMS, hotels must ensure they are using a linked profile which has generated a profile ID  (A free-typed non linked profile does not have the ability to enroll new members within PMS) 

To enroll a linked profile, select the profile either from the Profiles->People->Search or by navigating into the booking and 'editing' the linked profile. You must ensure that there is a valid unique email address and a postal address, together with salutation and first/last names for the BW enrollment to be successful.
You can enroll the guest by navigating to BW Options->Enroll in BWR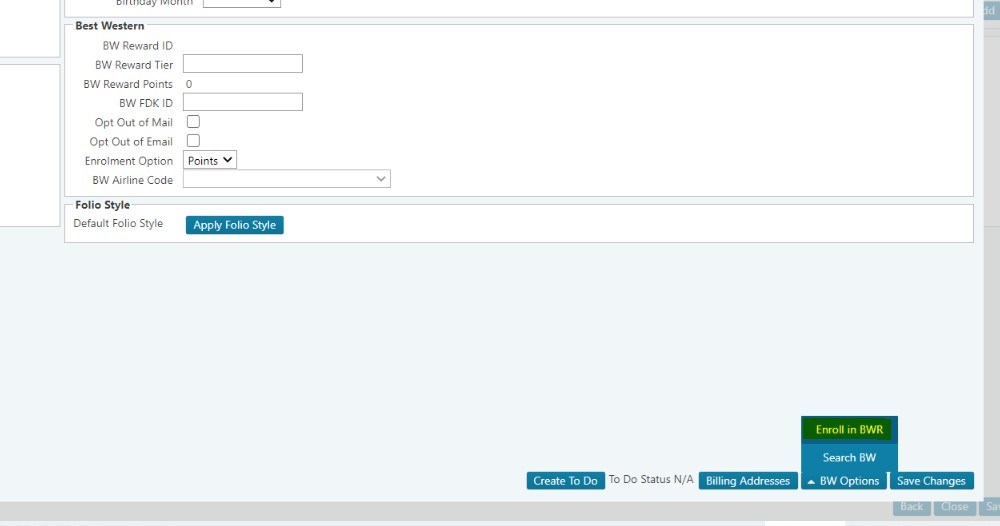 Ensure the profile has the correct options selected with regards to BW Offers - 

Upon successful completion of the enrollment, a pop up box will appear giving you the new 16 digit BW number (always begins 600663). BASE will always be the initial tier that a guest is enrolled onto. Tiers can be increased towards Gold->Platinum etc by regular stays within any BW properties with a linked BW rewards membership number on their profile.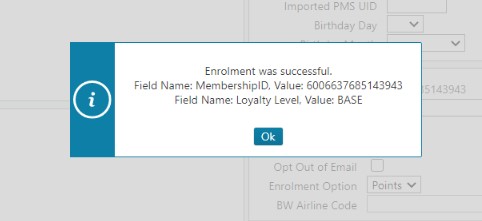 It is important to note for BW hotels that there are various stipulations as to what is considered a 'qualified enrollment' (Crucial to meeting the required Brand Standards, ensuring hotel is not penalized and ensure property rebates are calculated accordingly)
Enrolled within linked profile before check in, at time of check in, or before the 1st nights EOD.
MUST have a valid unique email
MUST have Opted In to email communication (leave unticked)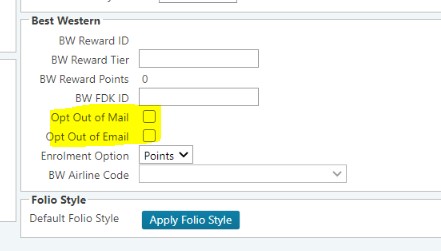 If you want to enroll a guest after the 1st EOD has run, or after the guest has checked out – to ensure this is a qualified enrollment you will have to manually award the points and then submit the points through MW within 'Pending'