What is the online balance?
The online balance is the page shared with guests via a link so that they can check their expenses online and real-time. This allows guests have a better understanding of what they'll have to pay at departure and, therefore, offers a smoother check-out process.
You can find here an example of how it looks like: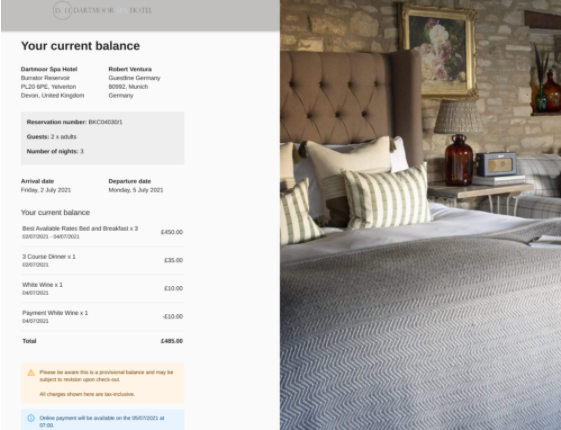 Does the online balance work for all guests?
It works for the majority of the guests, but there are a few exceptions:
Pre-paid rates:

The hotelier needs to ensure that these charges are redirected to Ledger, otherwise they will show up in the balance. This is a task that hoteliers perform now at check-out to make sure those rates are not shown in the invoice.

Pre-auths:

The online balance doesn't consider pre-authorizations done at check-in. The hotelier can still share the balance with the guest but in that case they will need to cancel the pre-auth at check-out in case the guest paid online.

Bill splits:

The online balance shows an aggregation of all charges in all guest folios and all bill splits (but not Ledger!). It's currently not possible to see the balance and pay only for a specific bill split
How can the online balance be shared with guests?
There are 3 ways the balance can be shared with guests:
Manually from the Room Billing screen of the dedicated reservation: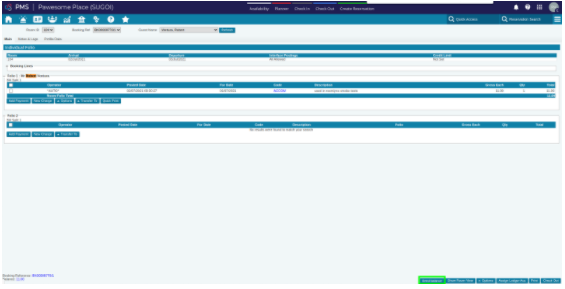 Manually from the "Check out" screen for all reservations departing on that day:

Automatically via a

Rezlynx template

with the dedicated tag called "GuestStay Online Balance":
How does the email sent to the guest look like?
The email sent when clicking on the button "Send balance" in Rezlynx is branded with the hotel logo and colours, you can find here an example: