As a Guestline Platform product, access to Insights is controlled using Guestline SSO user management. This article demonstrates the steps required to manage user access to Insights.
Note: Insights will be made available automatically to all Guestline Platform users that onboard from Rezlynx PMS and where the original Rezlynx user was a member of the "ADMINS" user role
Prerequisites
You must be signed in as a Guestline Platform user possessing "Read" & "Update permissions" capability for SSO user management
The user being granted access must be already onboarded to Guestline Platform
Checking Insights Permissions
First, navigate to the Guestline Platform user management menu and find the user you wish to check Insights access for.
This menu can be accessed via Guestline Home or via Rezlynx PMS user management screens. You can also access it directly via a URL. To open a user profile simply click the pencil icon next to the user's name.
Note: if you do not have "Update Permissions" on your own user, the pencil icon will switch to an eye icon and you will not be able to edit the user's permissions
You should see a screen similar to the following: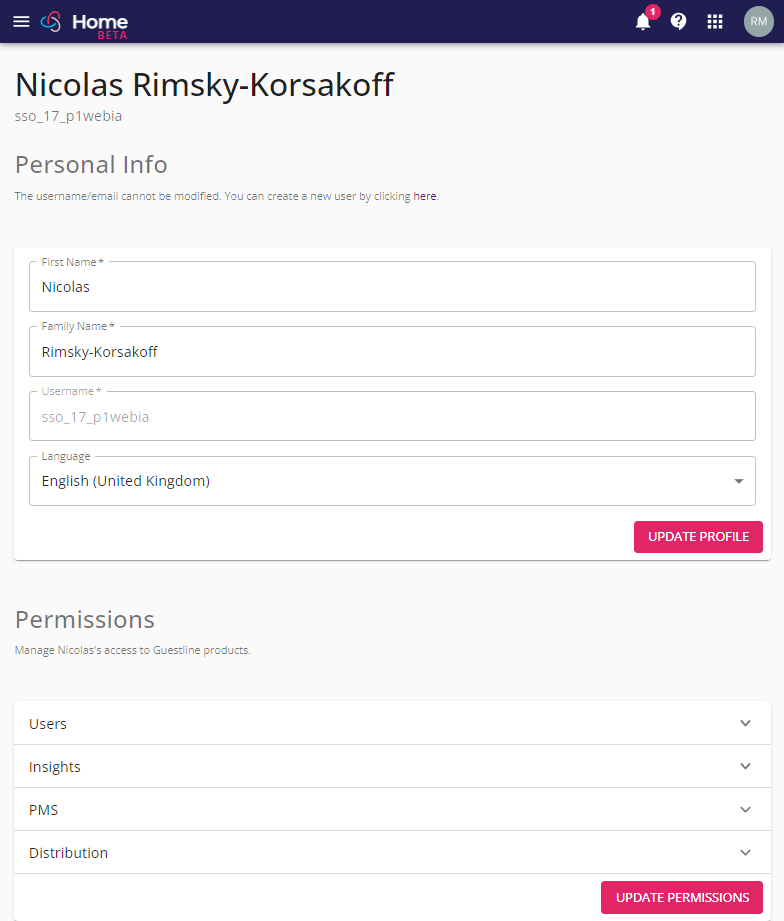 Next, open up the Permissions drawers for Insights to see which functionality of Guestline Insights that the user currently has access to: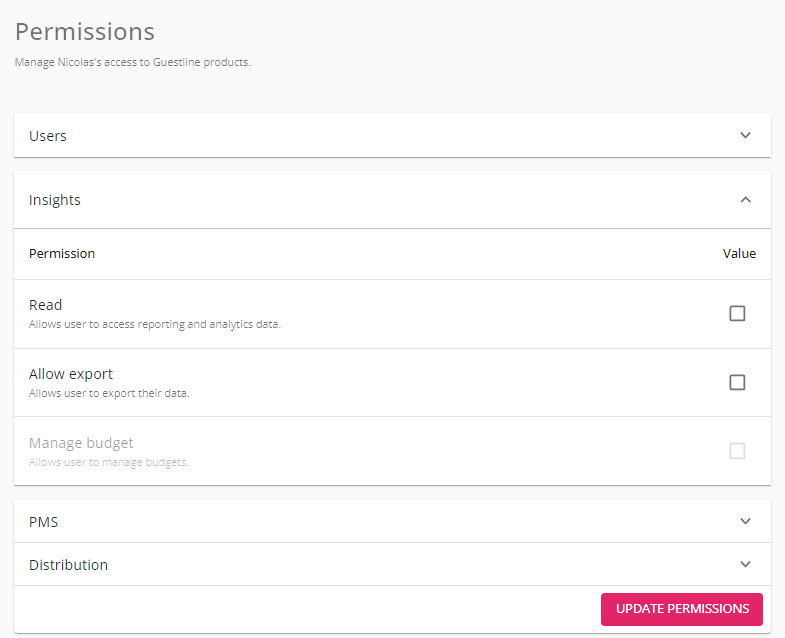 In this case, Nicolas would be unable to access any Insights functionality.
Granting access to Guestline Insights
To enable a user's access to Guestline Insights, simply click the tick box next to "Read" permissions and then click "Update Permissions" like so: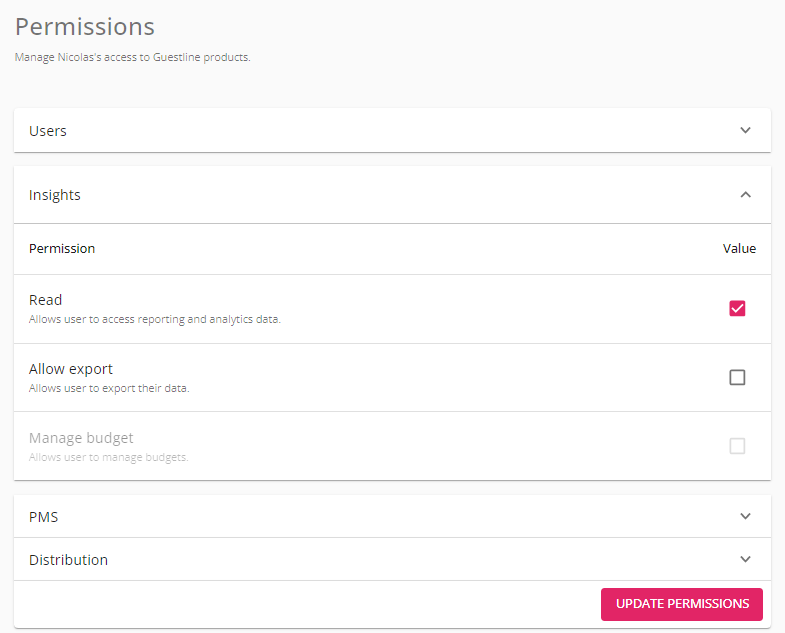 This user should now be able to access Guestline Insights.
Note: in some cases the user may have to log out and log back in again to pick up changes to their access permissions
Removing Access to Guestline Insights
To remove access to Guestline Insights, simply reverse the steps above -- remove the tick boxes in the Insights drawer, then click Update Permissions.
Frequently Asked Questions
What do each of the Insights permissions do?
There are two permissions related to Guestline Insights' core functionality, and one which relates to a feature not generally available to our clients:
Read -- this simply controls whether a user can access Insights as whole. Without this permission, Insights will not be visible or available in any way
Allow export -- this controls whether or not a user can export data from Insights reports. They will not be able to access this feature if they do not have read permissions
Manage budget -- this will control access to a budget management feature that is currently in active development and is not available to end users. We will update this article when more information is available
I don't want my staff to see all sites' data in Insights. Can I give them access to specific sites only?
Yes, although this is currently based on the level of Rezlynx PMS access assigned to each user in Guestline SSO user management.
A user with Insights read permissions will only be able to see data for the Rezlynx PMS sites they currently have access to.