What is the DBM Google Connector?
It's a DBM module that creates a live rate and availability feed to Google directly from the Guestline PMS.
By sending this data to Google, Free Booking Links for the property are displayed across Google Search and Maps. The feed can also be used for paid Google Hotel Ads.

Placement of Google Free Booking Links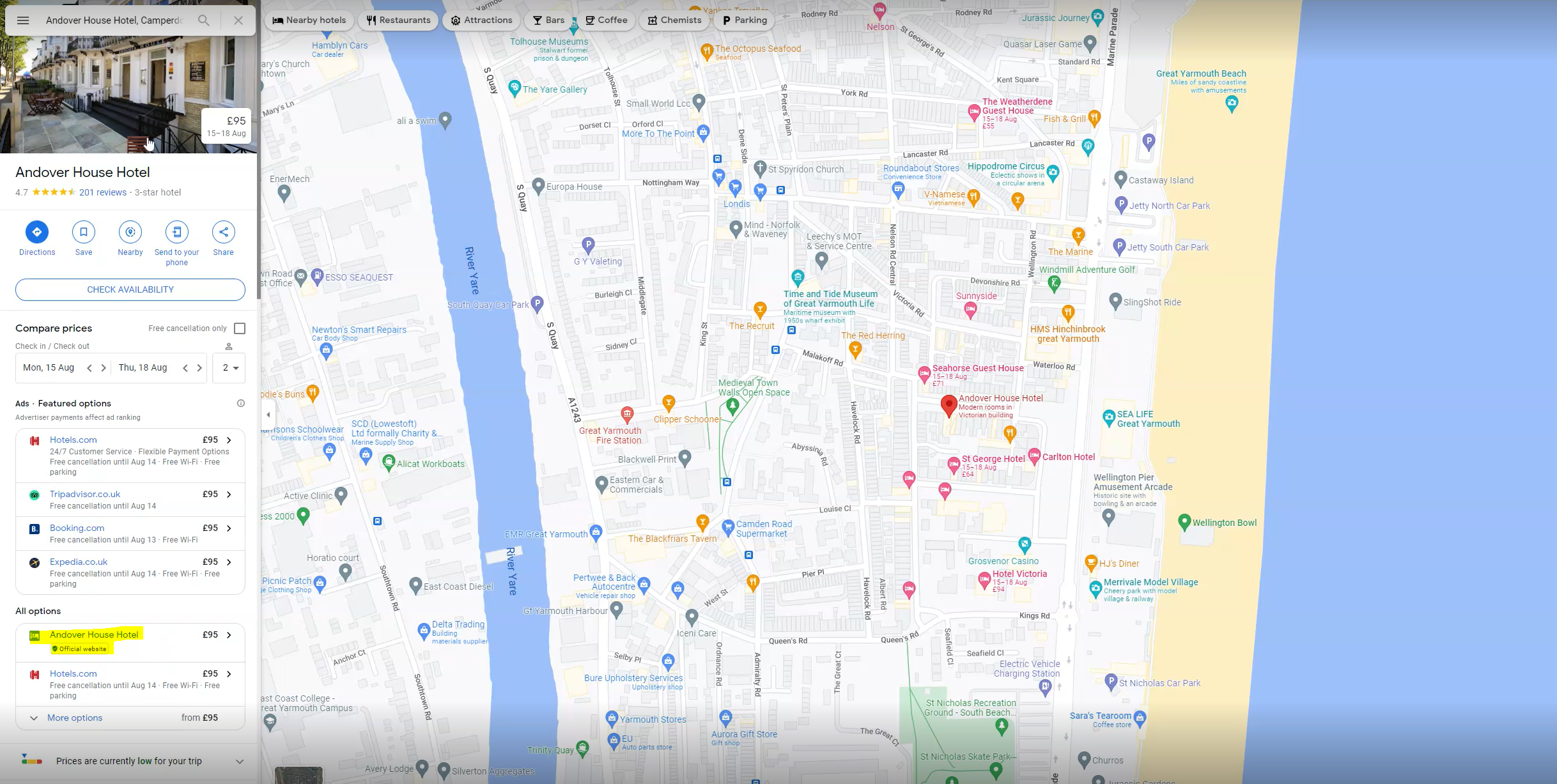 Placement of Paid Google Hotel Ad Booking Links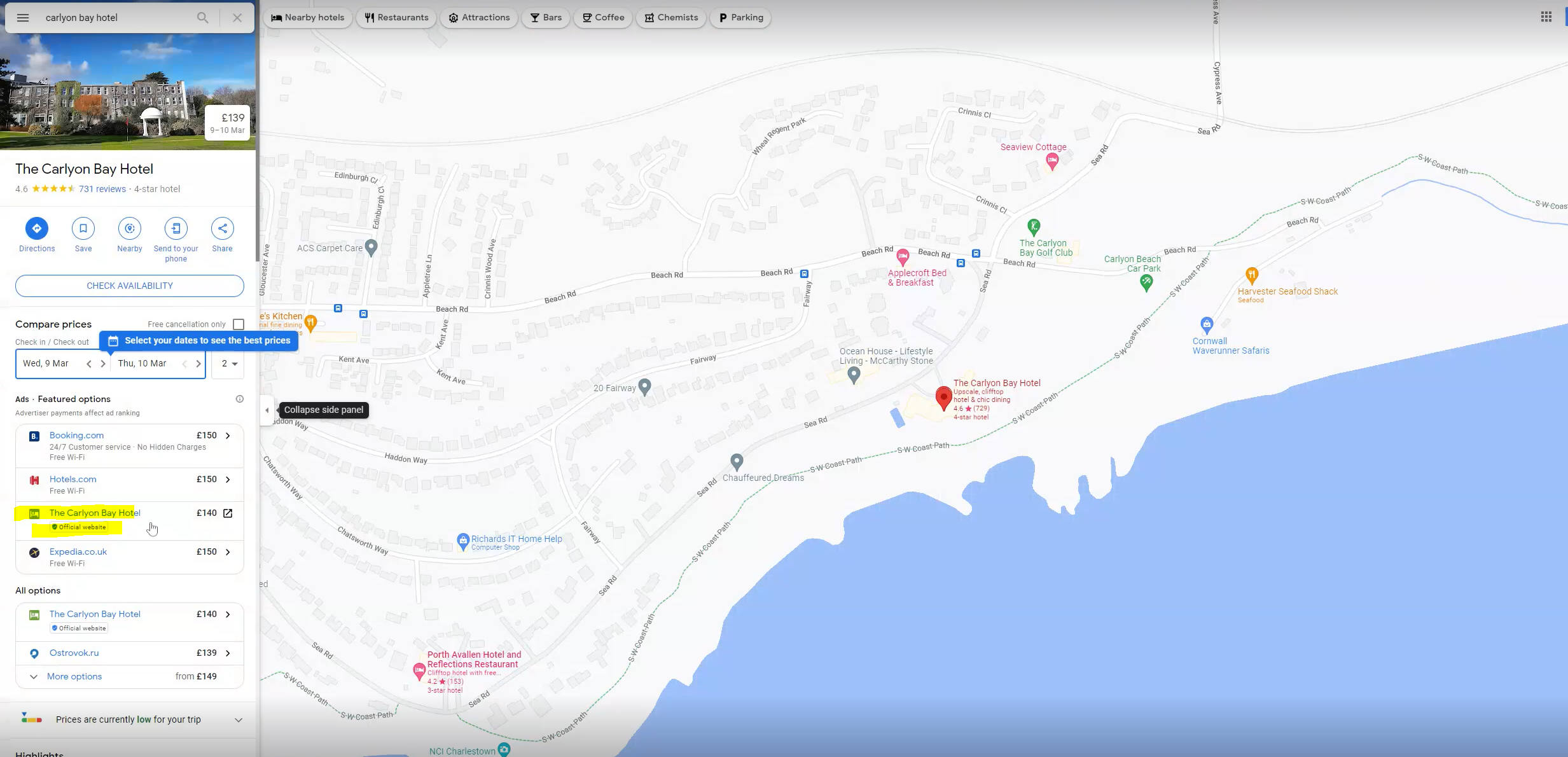 | | |
| --- | --- |
| Free Booking Links | Paid Hotel Ad Booking Links |
| Free links, with hotel pricing and availability, to drive traffic and bookings to your site | Paid links to expand your reach and drive even more traffic and bookings to your site |
Track Bookings
Tracking any new business generation from Google Booking Links is easy in Guestline Insights, using a mixture of filters and visualisations on the Booking Pickup, Revenue Pickup and Booking Cancellations reports.
Bookings register as channel 'DBM' with a Media Source Code of 'GFBL' for bookings from a Free Booking Link click or 'GHPA' for bookings from a Paid Hotel Ad Booking Link click. These will of been created for you within Roomlynx and Rezlynx during the onboarding stage.
Full information: https://support.guestline.com/hc/en-gb/articles/4414917549330
You can also use the Daily New Reservations report within Rezlynx which allows you to filter bookings by Media Source Code.
Track Traffic
You can track the traffic coming to their DBM site from Free Booking Links using your Google Analytics account or a similar web analytics platform. This works using UTM codes which are automatically included on the links from Google to DBM.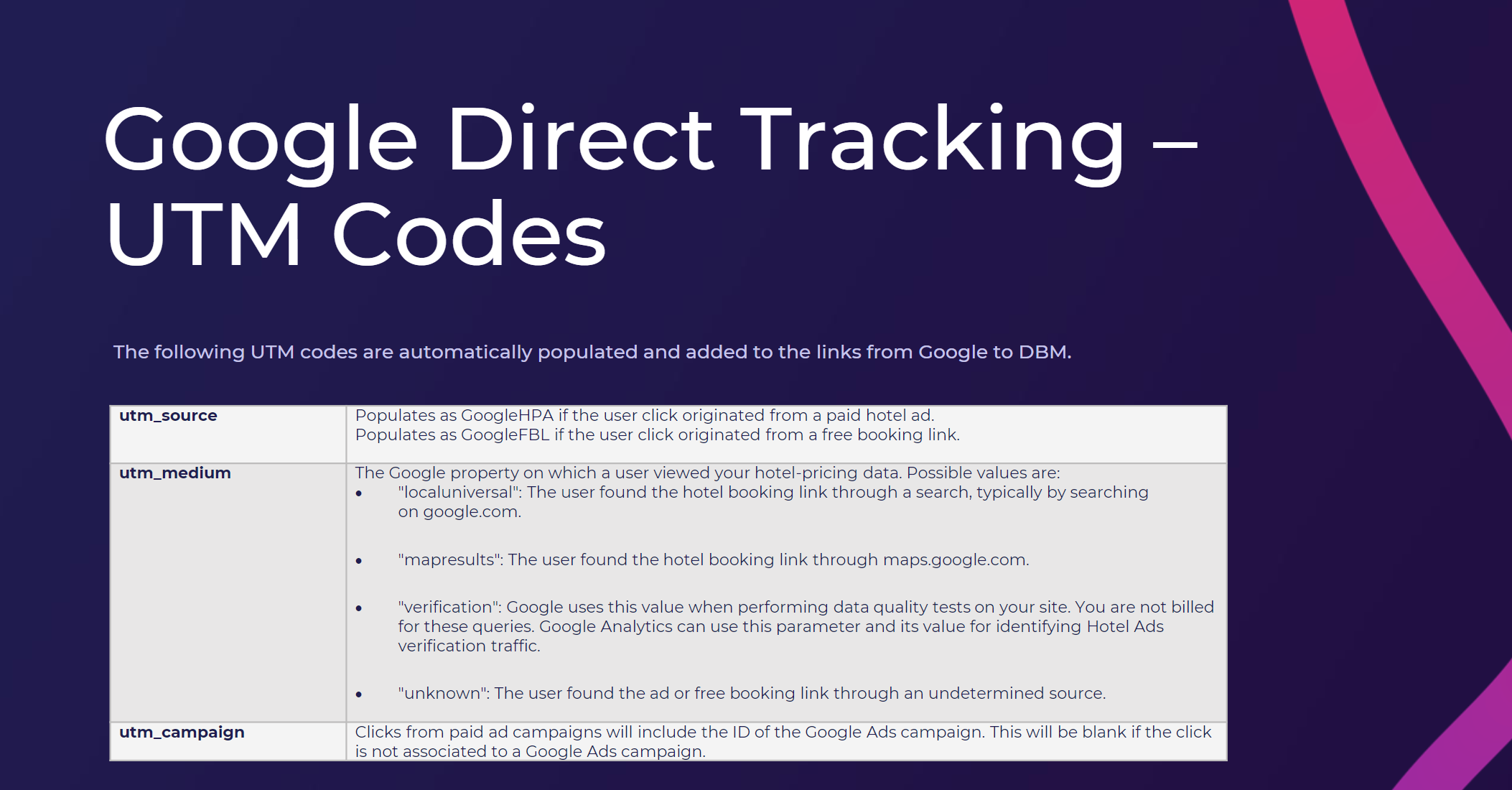 Using Paid Google Hotel Ads
Our Google Connection can also be used with Google Hotel Ads as part of a paid digital marketing strategy.
Google Hotel Ads are managed and paid for by yourself directly with Google. This is done via a Google Ads account which you will need to set up if you don't already have one.
The Google Connection from Guestline sends rates and availability to Google via our Google Hotel Center connection. This gives you Free Hotel Booking Links. If you also want Google Hotel Paid Ads, then you need to connect these accounts together. Please note that if you have linked your account to us, please let us know your Hotel Centre Account ID so that we can ensure your request is linked correctly to your property/s.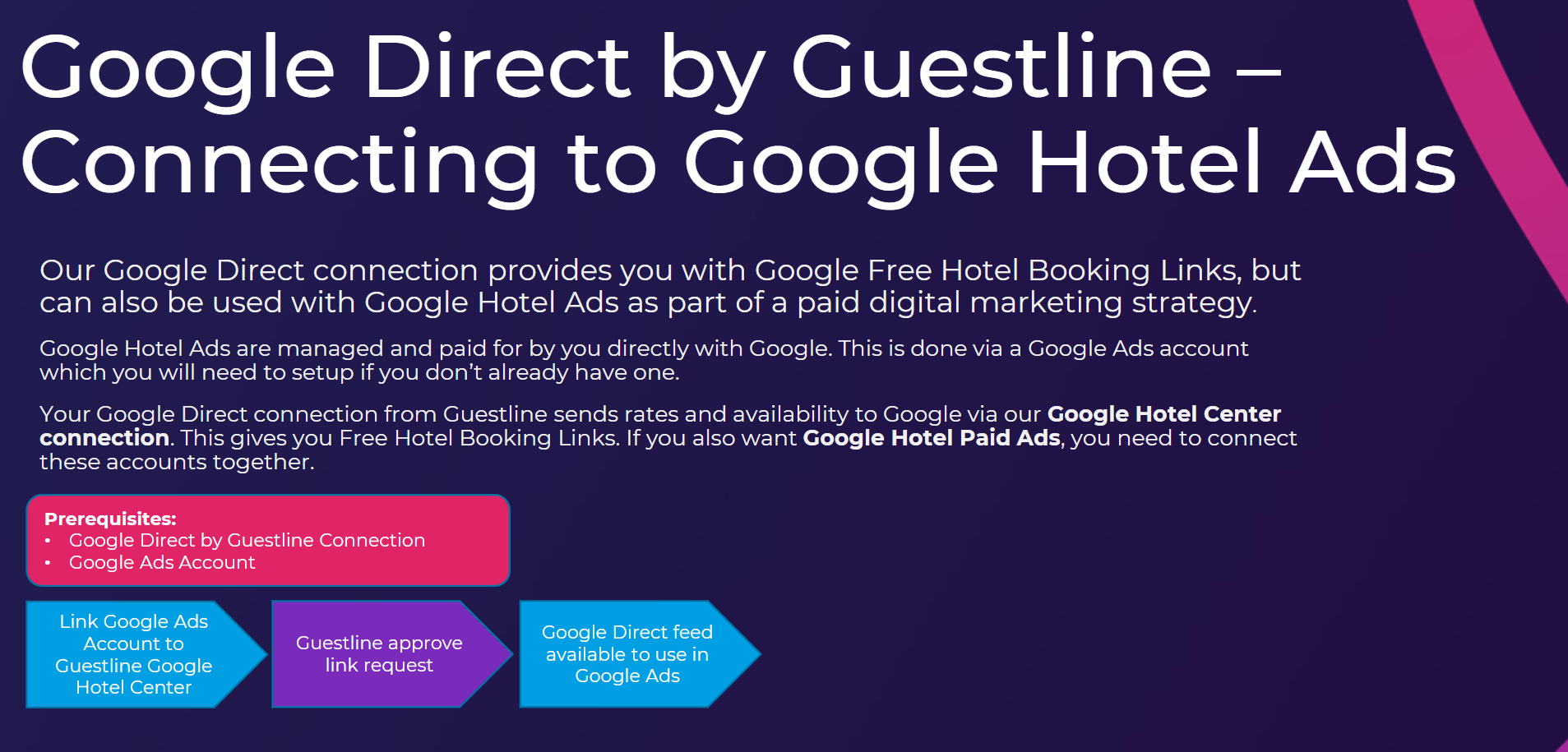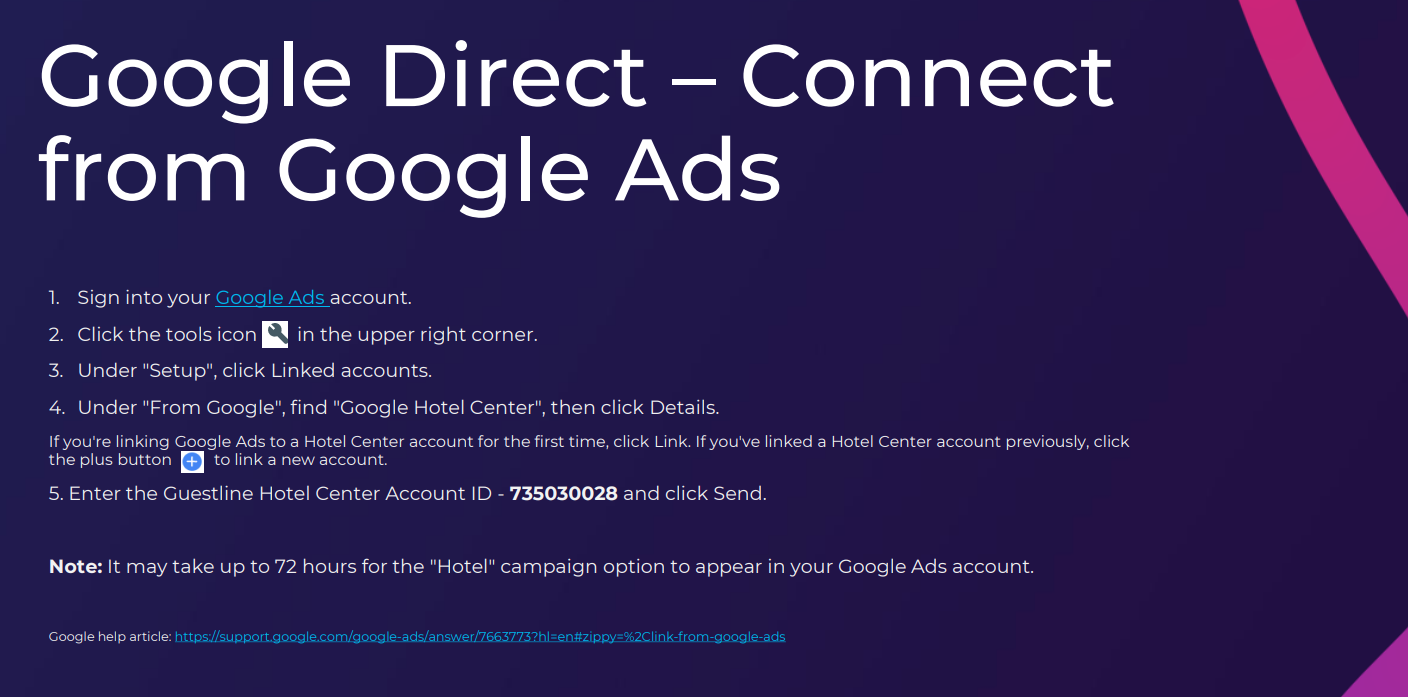 Why should I use it?
Drive direct bookings by using our Google Connection to help:
increase DBM traffic and bookings

reduce the amount paid in OTA commissions

have greater control of the guest experience, right from the point of booking

increase direct visibility on Google
Eligibility – the property must:
use Guestline DBM

have a Google My Business account active

comply with Google's guidelines for eligible properties (no vacation rentals or apartments, the property must offer short-term overnight stays to the general public and have a front desk, on-site staff, and accept walk-in customers)