Some users have reported issues in the latest version of the Rezlynx Browser where, on launch, Rezlynx does not display correctly. Users have reported a variety of presentations, but most commonly the issue is either a black screen, a white square or the desktop showing, despite the browser being in focus.
In version 5.180.21.0 of the Rezlynx Browser (Version can be seen in the bottom right of the Rezlynx Browser when launched) a new toggle has been implemented. By default this is NOT enabled. This setting can be used in circumstances where the browser does not correctly Render Rezlynx. This can occur when the latest Chromium embedded framework has compatibility issues with the machines graphics card. Enabling this setting ensures that the browser falls back to an alternative rendering method, bypassing the machines hardware.
To access this setting select 'Tools>Browser Options' (General Options). Toggle on 'Disable GPU Acceleration'.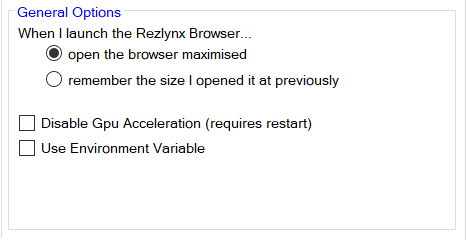 After activation close the Browser and relaunch it.