28/11/2022 - These interfaces have now been deprecated from the Guestline portfolio. For information about supported Gateways, please contact paymentservices@guestline.com

WorldPay & Windcave payment gateways End of Life
14/10/2022
Dear Guestline Customer, 
The below article reflects an email that has been sent to your property on the 13th and 14th of October....
Recap
Stronger security from card providers with PSD2 and the retirement of WorldPay Online has led to us deprecating both Worldpay Online and Payment Express for use with Guestline products. We have already confirmed that both WorldPay and Windcave gateways will be turned off on 14th October 2022.
Change of date
Today (13/10/2022) Worldpay has announced that their platform will now continue to be active until 28th November 2022. We will now also delay deactivation of the gateways until 28th November 2022. This will allow some merchants to complete their migration to an alternative gateway.
Important
This change comes with important caveats. The Card Schemes are still pressing on with their plans of compliance with PSD2. We understand that the switch-off times for 3DSv1 transactions are as follows: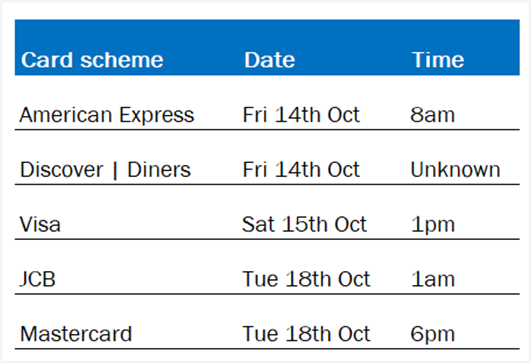 To confirm: 3DSv2 will be mandatory and 3DSv1 transactions will be declined by the various Card Schemes with effect from the dates/ times above. You will therefore see declined transactions in accordance with this staggered timetable.
Impact
Guests will not be able to make bookings directly (ie via Direct Booking Manager (DBM)). They will be met with a Decline message on submitting their card details. To avoid this it's recommended to transition to a new, compliant, gateway. However, in the meantime you can choose to accept bookings without a guarantee. This will remove the requirement for card details to be presented.
How to make this change
This is a configuration change which we can make for you. Please contact Guestline Support if this is required. To confirm, if you do not wish to adopt this approach then you will no longer receive bookings via DBM until you have transitioned to an alternative gateway.
GuestPay is fully compliant with 3DSv2 requirements. This solution is already being used in hundreds of hotels to process millions of pounds of transactions every day. Please contact us at paymentservices@guestline.com if you would like to discuss Guestline's gateway solution.
Thank you,
Guestline