In some territories, regulations dictate that transactions attracting different rates of VAT must not be grouped together on an invoice. If you have different VAT/Tax rules applied to Accommodation versus Food & Drink you can now make this available on the output of invoices by enabling this feature.
How does the new feature work?
Once enabled, when printing an Invoice, Grouped Transactions will display the component parts. They will be grouped by Analysis Code and the Description, Tax rule and value will be displayed. Please note that Invoice Enhancements to finalize invoices need to be enabled before you can activate the VAT split feature.
Which transactions are impacted when this is enabled?
Any transaction that is grouped under a header. This may be a Rate Plan, but could also be a transaction from a 3rd party, i.e. EPOS, or a transaction manually grouped by a user.
How is it enabled?
Activation is performed within 'System>System>Ini Settings - Reports'.
In the 'General' panel of this page, there is a new entry labeled 'External Invoice Grouping'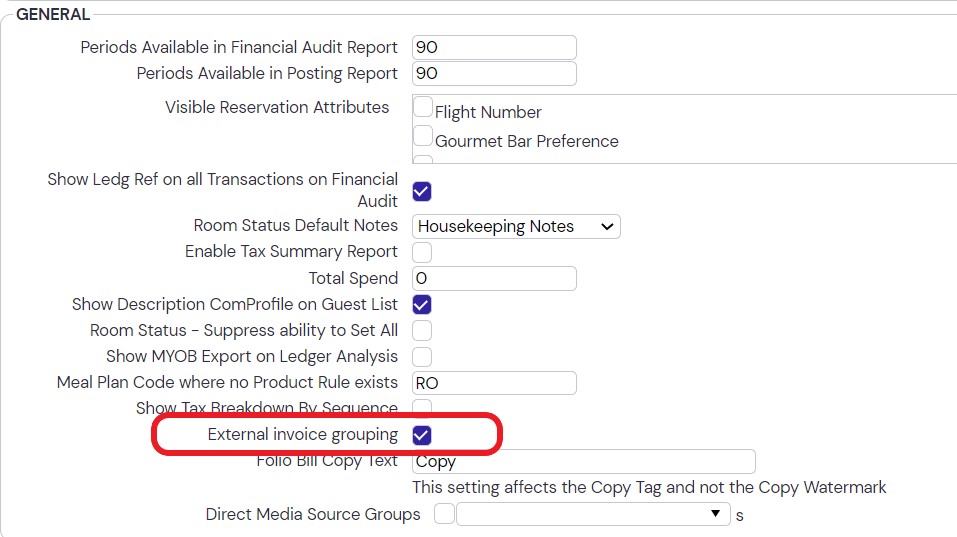 The Output
When enabled it is the printed Preview Document and Invoices that display the new output. The onscreen output is not affected. Important items to note;
The output is ordered by Gross value descending
The Analysis Code Description is used for the Display